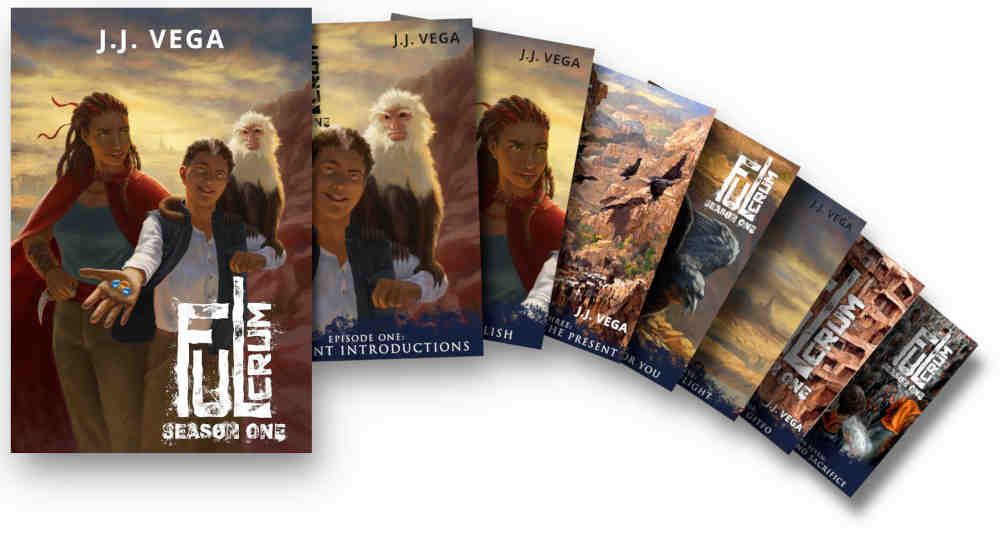 Announcing Fulcrum: Season One!
Yay! I am so super-excited about this book (well… series of books, actually) finally being out in the wild. This story has been a long time coming for me.
What is it?
Well, I call it post apocalyptic technofantasy. Imagine a cyberpunk Mad Max, with magic. In a nutshell, that's what Fulcrum is. This story was originally conceived as an animated series when I first developed it. And really, I've basically kept that same story structure for the series. That's why, like I was saying, the first book is actually a set of books. Like an animated television series, each book is an episode in a larger story that exists as a season.
Yeah, yeah, but what's the story? What's it about?
Alright, alright. Here's the official description of the story (I'm writing under the pen name, "J.J. Vega"):
A fourteen-year-old bar owner, a cagey fugitive, and a badass monkey. When magical mayhem meets bloody brawls, can they survive the violent darkness?

Jack wouldn't trade his brutal life for anything. Hardened by the merciless nature of war, he's carved a dangerous niche running a post-apoc saloon frequented by cybernetically enhanced mercenaries. But the kid's cocky confidence gets shaken when a teen girl blasts through his wall and ignites a gruesome, gun-toting, building-destroying showdown.

Cleaning up bounty hunter body parts, he makes a pact with the young lady whose supernatural fighting abilities are mysteriously magnified by his longtime capuchin companion. But when their off-the-track town is invaded by a fearsome army and the price on his new friend's head skyrockets, Jack's in for a penny and about to be out for a blood-stained pound.

Can he scheme his way out of the chaos before he takes a fatal last call?

Fulcrum: Season One collects the adrenaline-fueled first seven episodes of the Fulcrum dystopian technofantasy mashup series. If you like cunning heroes, magically bent bedlam, and non-stop action, then you'll love J.J. Vega's ferocious adventure.
Pretty sweet, right?
Sweet, indeed! How do I get it?
You can get Fulcrum: Season One anywhere books are sold in ebook and paperback formats. Individual episodes are also available for sale in ebook only, if that's your thing. The easiest way (and the best way to support me) is by heading over to jjvega.com and using that as your leaping-off point for buying the book. You can use my store or any other one on line.
So, yeah… if you like stories with anime-tinged violence and technology in a post apocalyptic world, go check it out an let me know what you think!